AquaClass Veranda Stateroom
onboard Celebrity Solstice Class ships
A brand new class of staterooms on Celebrity Solstice, class ships, AquaClass brings a tranquil, relaxing atmosphere into your stateroom, while providing unlimited access to many of the AquaSpa amenities.
AquaClass Indulgences:
Welcome champagne
Daily fruit selection
Fresh-cut flowers
Daily hors d'oeuvres
Menu of pillows-Conformance: Body, Goose, and Isotonic
Duvets and pillow-top mattresses
Leather key holder, personalized stationery and a tote bag
Frette bathrobes
Hansgrohe showerhead
VIP invitations to events
Early embarkation and debarkation
Dining and seating preference
Preference on shore excursions
Express luggage delivery
Shoeshine service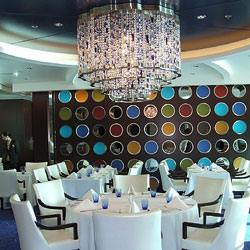 Blu is one of the specialty restaurants onboard the Solstice Class ships, but with an exclusive twist: only Aqua Class guests are invited to Blu - without a service fee!
"The menu is Blu is advertised as fresh and flavorful, but the choices are not what you might expect. All entree selections appear hardy and tasty, with a comfortable leaning toward leaner poultry and vegetarian selections. After enjoying wonderful appetizers and salads, we are presented with beef and chicken entrees, plus a 'sharing' sampling of Blu's crab risotto. The meal is delicious! With the menu changing daily, plus breakfast offerings, this is a definite "must-do"! In addition to unique spa access & services, in room amenities, the distinction to dine complimentary in Blu makes Aqua Class a unique value."
Aqua (AQ) Class offers: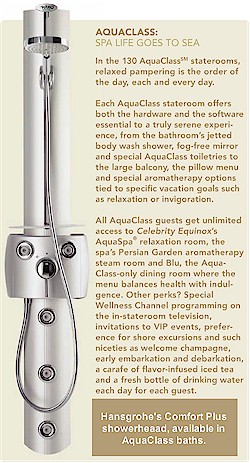 Complimentary admission to the Persian Gardens (steam rooms & loungers) and Solarium (adults only area and pool)
Complimentary access to spa Relaxation Room
Complimentary breakfast & dinners in Blu.
Unique bathroom amenities including relaxing rain head shower.
Addition of spa elements into your stateroom.
Priority boarding / leaving off the ship.
Express luggage delivery.
Special Robes, daily Hor dourves, and Fresh Fruit in stateroom.
Complimentary bottled water and iced tea.
Extra cruise credit towards Captains Club status.
Insiders Tip: Avoid #1549 because of a permanent obstruction from window washing equipment.
Floor to Ceiling sliding glass door
32" LCD flatscreen TV
Hansgrohe shower
Stateroom: 192 ft2 / 18 m2
Veranda/Balcony: 54 ft2 / 5 m2
Pricing Categories:
A1
A2